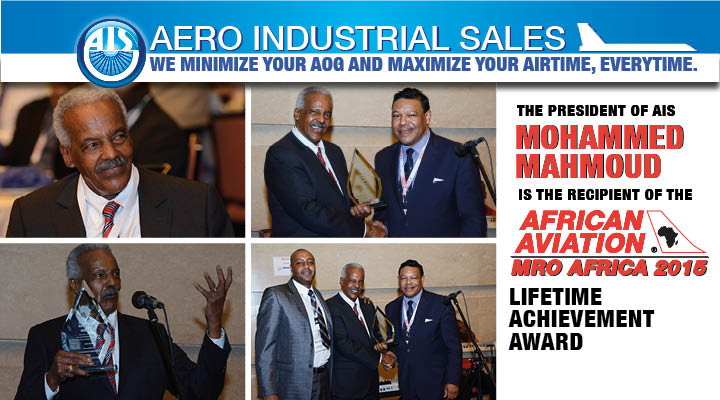 MRO Africa 2015 - Addis Ababa, Ethiopia
Testimony to a Lifelong Commitment
This years MRO AFRICA was a memorable experience for AIS. Our President and Founder, Mohammed Mahmoud is thankful for the AFRICAN AVIATION LIFETIME ACHIEVEMENT AWARD "For Outstanding Services to the African Aviation Development". The honor was presented by the President of African Aviation MRO 2015, Mr. Nick Fadugba, on behalf of the African Aviation Community. Mr Mohammed is proud to have received this award with his son Dahir Mohammed (VP, AIS Marketing and Sales), at the closing of MRO AFRICA 2015. It was a deeply gratifying acknowledgment after a lifelong career devoted to the development of African Aviation.
It began professionally for Mr. Mohammed in 1962, when he was selected to join the Initial Boeing Commercial Jet aircraft that ever landed in Africa. In 1978, history called again as he was tasked by Ethiopian Airlines with moving to New York and launching the first indigenous African airline office of its kind in North America. The success of this office rested on his efforts in the purchasing & logistics from the iconic TWA. With the historic success of this endeavor Mr. Mohammed retired from Ethiopian Airlines and took a hiatus. This time he spent preparing himself for a new journey that would utilize his business acumen and his years of experience to offer services and supplies to a continent ready for growth.
In 1986, He opened his company – Aero Industrial Sales. The offices and warehouse headquarters of which are located at the heart of the commercial aviation hub – JFK, New York, International Airport. Now, with 30 years of and success as an entrepreneur, Mr. Mohammed has guided his company into a coveted position of trust and respect from clients and competitors alike.